Share with us: Make history!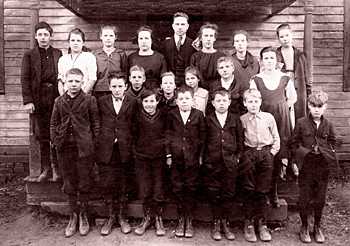 Hammondsville School, c 1917. Bill Sprague, teacher.
Rear: 2nd from left, Doris Elliott. Front: 1st from left, Glenn Myers; 4th and 5th, Don and Dave Stewart.


Remember a funny story, a special saying, a nickname, a recipe? Add to our archive of family memories!
Start collecting your family history now!
If this site has made you more interested in your family history, we're delighted! Now go out and collect the stories of

your

folks--it's not hard. Here's a

"Family Folklife Interview

" to get you started. Be sure to come back here and

share what you discover

!
Photographs
Contribute a photo: Please email Janice Donley if you have photographs of people or heirlooms to contribute--we'll tell you how.
Stay in touch
Other researchers
Janice Garlock Donley
700 Tenth Street • Oakmont, PA 15139 USA
412-828-6557• 412-828-8670 (fax) • jdonley@garlock-elliott.org
---
©1999-2000, Janice G. Donley | Last modified 18-Aug-2000| Design: Susan K. Donley | Programming: H. Edward Donley